Hot Rolling Grinding Balls For Ball Mill
Hot Rolling Grinding Balls For Ball Mill
HY

China

20-45 days

50000T
Our Forged Grinding balls produced by advanced automatic rolling machine ( Balls from 20mm-70mm) + Labor Air Hammer ( 80mm-150mm) with special Heating treatment and strict quality control systerm , which make our grinding balls high performance

Grinding balls 'Raw Material Purchase : Strategic partnership with standard steel enterprise and sign the long term agreement (50,000 Tons annually ) Purchase directly from Chinese famous standard steel enterprise , such as laigang Group, HBIS, ANSTEEL, XIWANG Special steel .

We have special department of QC teamwork .The QC department director have 10 years experience in this industry . The team is responsible for inspection during production , inspection before delivery .( Forged Steel Grinding balls Surface and core hardness test each day each batch and all will be recorded and filed in documents ) .
How to be your sustainable partner of Grinding media balls ?
Quality Guarantee : Opitimizing reducing grinding costs in mines .Grinding Media Balls Quality seems to be very important .
Grinding media are the means used to crush or grind material (cement, mineral, …) in a mill. Grinding media sorting is performed when the ball load wears out. New grinding balls are then added or full reload is carried out to keep optimum filling degree and hence mill performance.
Reliable Quality : Consistance Chemical Composition with customer
required steel. Surface and Core Hardness reach to the suitable level no cracking . Imporved impact value .
Fast Delivery time : Long term trustworty freight forward
booking space in time and resolve any sudden problems to guarantee the fast delivery and on time loading on board
Reasonable price : Price will be adjusted according to the steel change.
Forged Grinding balls chemical composition :

Brand
Remarks
Chemical Composition (%) of Raw Material
C
Mn
Cr
S
P
Si
Hardness

HY-1

60Mn

0.57-0.65

0.7-1.0

《0.25

Max0.030

Max0.030

0.17-0.37

58-60

HY-2

65Mn

0.60-0.70

0.90-1.2

《0.25

Max0.030

Max0.030

0.17-0.37

58-65

HY-3

75Mn

0.72-0.92

0.90-1.2

《0.25

Max0.030

Max0.030

0.17-0.37

55-65

HY-4

B2

0.72-0.85

0.7-1.2

0.42-0.85

Max0.030

Max0.030

0.17-0.37

60-65

HY-5

B3

0.5-0.65

0.4-1.0

0.77-1.10

Max0.030

Max0.030

1.4-1.8

60-65
Dimension Series :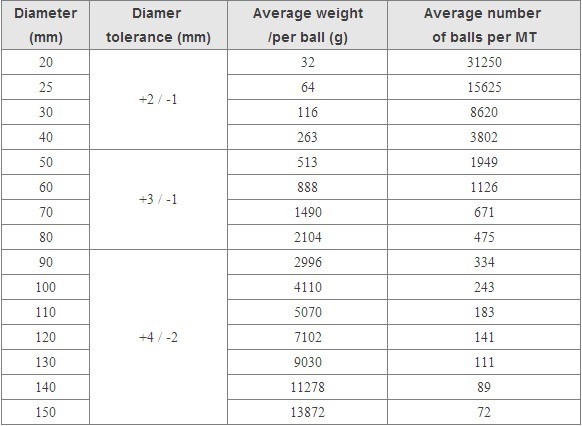 Grinding balls Production Process :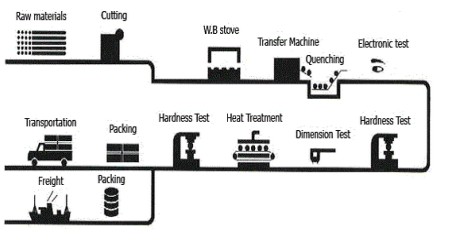 Packing of Grinding Media Balls
The grinding balls to be packed in steel drums with openable top or bulk bags.The plastic bags should be of good quality with 5:1 safety ratio .Drums or bags packed on pallets made of heat treated wood or plywood.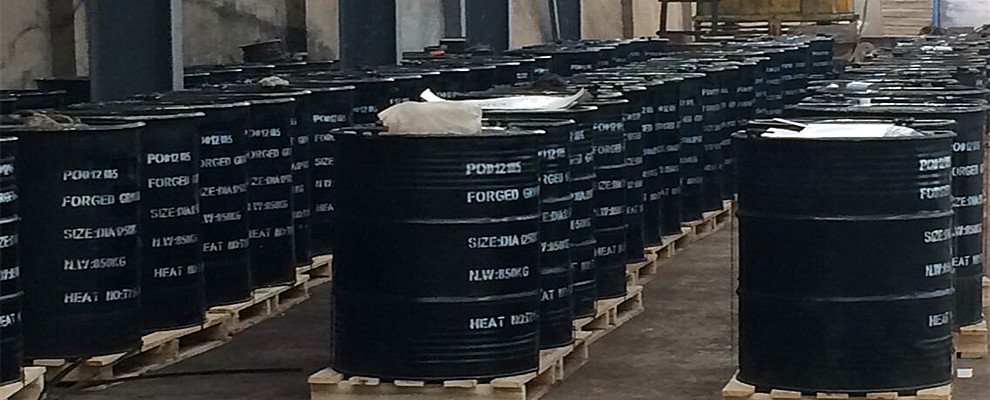 Why choose us ?

1. Strategic Partnership with standard steel enterprise and sign the long term agreement ( 50,000 Tons Annually ) Purchase directly from Chinese famous standard steel enterprise , such as Laigang Group , HBIS, ANSTEEL , XIWANG SPECIAL STEEL .
2. Our vice Director Mr Chen as the grinding balls' technology specialist is personally responsible for the steel purchasing . (Negotiating , Sign Contract with steel company , Steel elements Matching confirmation and inspection
3. Stable Delivery time
4. Each batch steel label will be taken photo and recorded ( Steel company name, Description of goods , Specification , Steel Grade, Heat Number , Production Date and etc.. ) for Tracking in future 5 years !
5. The steel will be inspected by spectrograph When into our factory
If there is any problem with the chemical composition , all the steel will be returned back to steel company
6. Information exchange of Steel price tendency
Cooperation case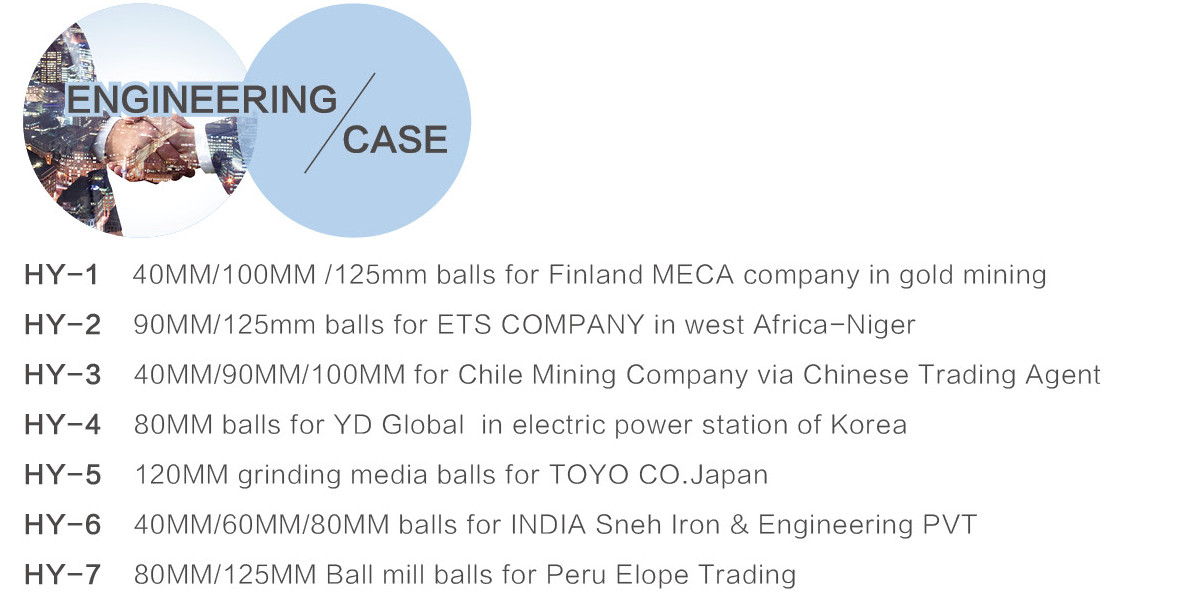 Haoyang manufacturing grinding balls of European quality :
Jinan Haoyang Casting & Forging Co.,ltd is one of the leading grinding media manufacturer in China .Our products are designed for grinding of raw materials by cement plants, energy generating companies, ore mining and industrial processing facilities, construction materials plants located in China . Haoyang steel balls manufacturing plant was put into operation in June 2008.Today, we deal with continuously growing consumer requirements for operational properties of grinding media, what directly affects ball mill prices and quality, efficiency of equipment and the enterprise in general.
The plant was built using the most advanced equipment. Through the use of modern technologies and cooperation with a number of research organizations, we managed to achieve very high levels of quality in grinding steel balls. Despite its short history, Haoyang managed to become a manufacturer of quality grinding media for ball mills, as well to keep its position on both the domestic and overseas markets .The operational properties of steel balls produced by Haoyang allow to significantly reduce the consumption of grinding balls and power, to increase grinding fineness of raw materials, to decrease the number of mill repairs and, consequently, to increase their productivity.